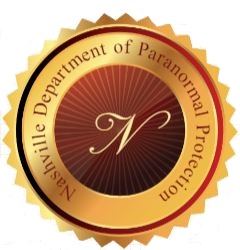 The Nashville Department of Paranormal Protection
In July of 1943, the grisly murder of two of Nashville's elite, Jonathan and Emily Wells by rogue vampires, spurred the call for the city government to put an end to the vampire menace. Mayor Cummings proposed the creation of a special department within City Hall to enact a vigorous war against the monsters and demons inhabiting Nashville.
A year later, the Department of Paranormal Protection was established. George Newton, one of the area's more outspoken critics of Mayor Cumming's administration's handling of the vampire crisis was put in charge. Given his strong stance, the city council overwhelmingly voted him into the position and pledged their support to the new department.
The DPP consists of seven members who to this day, meet monthly to plan out their strategy for combatting the growing problems with the creatures of the night. Their tactics have called for increased crackdowns by local police on vampire establishments. They've called for the recruitment of religious leaders in the fight against the werewolf family, and the use of mercenary monster hunters.
By 1950, the Department appears to be seen by many as corrupt and ineffective. Allegations of bribery and conspiracy are whispered on the city's streets, yet City Hall remains silent, continuing to back the DPP vocally and financially. Rumors of vast sums of money paid to the members of the DPP from the Jackson werewolves, the mysterious owner of Voodoo Rumors, and other dark elements in the music industry have been gaining ground.
An article, allegedly written for the Tennessean in early 1951 was blocked by City Hall. The report supposed showed in detail how the number of and intensity of the DPP's efforts systematically slowed between 1947 and 1950. The number of arrests and monster hunts slowed while the estimated financial worth of the Department members increased drastically.
To date, the DPP continues to operate, educating the public and keeping the people of Nashville vigilant. While vocally supporting the police department's use of Nashville's celebrated private investigator, Thomas Dietrich, Newton, and his fellow department members privately continue to scale back on the city's efforts to rid it of the werewolf and vampire population.
Only time will tell what effects these cutbacks will have on the city and its population.